Superdelegates shifting toward Obama
He narrowed Clinton's lead to 13, picking up four after Tuesday's primaries.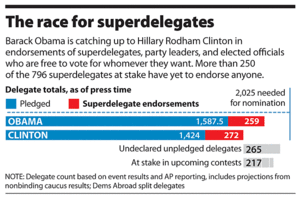 AP
They are the only yardstick by which Barack Obama still trails Hillary Rodham Clinton: the 796 party insiders and elected officials, known as superdelegates, who are free to back either candidate in the race for the Democratic presidential nomination.
But if the trend of the past few days continues, Senator Obama will soon overtake Senator Clinton on this final frontier, a tipping point that could encourage a cascade of endorsements from holdouts and all but seal the nomination for the Illinois senator. Even so, some superdelegates say they are content to wait out the remaining six contests before placing their bets.
Sen. Ken Salazar (D) of Colorado calls himself "steadfastly uncommitted and very much at peace."
"It's another data point in a long journey," he says of the primaries Tuesday, when Obama routed Clinton in North Carolina and narrowly lost in Indiana despite one of his campaign's most difficult stretches.
The superdelegate count has come into sharp focus since Tuesday because of a mathematical milestone: the number of undeclared superdelegates – 265 – now exceeds the 217 pledged delegates up for grabs in the remaining contests.
As recently as mid-January, Clinton, with her family's deep roots in the Democratic establishment, led Obama by nearly 100 superdelegates. By Thursday morning, Obama had narrowed her lead to 13, having amassed 259 superdelegates, to Clinton's 272, according to an Associated Press tally.
---