In congressional races, Republicans are losing ground
GOP leaders urge a new agenda after several key losses.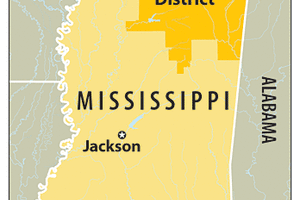 Rich Clabaugh
The prospect of a special-election loss in yet another seat this week is fueling calls for House Republicans to radically shift course – or face losses in November that could lock their party in the minority for a generation.
Strike one: A Democrat wins the seat vacated by former House Speaker Dennis Hastert (R) of Illinois, a March 8 stunner.
Strike two: A Democrat wins a May 3 vote in a Louisiana congressional district that President Bush in 2004 carried by a 19-point margin.
Tuesday's runoff election in Mississippi's First Congressional District could be strike three. Democrat Travis Childers already nearly defeated Republican Greg Davis in an April 22 special election to replace GOP Rep. Roger Wicker, falling just 410 votes short of a majority. The idea that a Democrat could win the runoff has shocked national party leaders into overdrive.
"This seat is a very important one. It's been in conservative hands for a long time, and we'd hate to see the liberals gain control," said Vice President Dick Cheney in a phone interview released by the White House. The vice president is headlining a get-out-the-vote rally for Mr. Davis in Mississippi on Monday.
---