Obama shifts sights to McCain and the general election
The nomination isn't his yet, but his aim now is to unify Democrats.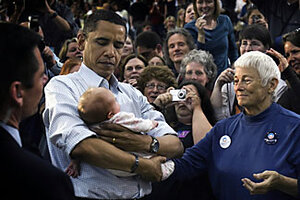 Michael Lloyd/The Oregonian/AP
Hillary who?
OK, Barack Obama has not yet gone that far. But as the lengthy, tiring, roller-coaster race for the Democratic presidential nomination enters its (possible) homestretch, the senator from Illinois increasingly is ignoring the competitor from his own party to focus on presumptive GOP nominee John McCain.
In part, this move likely is intended to be self-fulfilling. By behaving as if he has finally wrapped up the Democratic contest, Senator Obama may generate fresh excitement among his supporters and lure crucial superdelegates into his camp.
But it also probably reflects the Obama campaign's judgment of its actual position. The math is the math, and as the primaries dwindle to a precious few, Hillary Rodham Clinton's chance of winning the nomination has dwindled as well. It's time, perhaps, for Obama to take the first steps of his next long march – the one to November.
"It's going to be an incredible election," says Larry Sabato, political scientist at the University of Virginia at Charlottesville, enthusing over the possibility of an Obama-McCain matchup. "One of the best ever."
Of course, the race for the Democratic nomination is not yet actually over. Senator Clinton may do well in upcoming primaries in West Virginia and Kentucky.
Even so, it is unlikely that she will be able to erase Obama's lead among pledged delegates by the end of the primary season. To win, she would need a large margin in so-called superdelegates, party leaders free to vote for whom they choose. But they have been trending Obama's way, and by some tallies he now leads in the superdelegate count.
---