What Clinton gains from carrying on
By finishing out the primaries, Clinton keeps faith with her fans – and maybe helps retire her debt.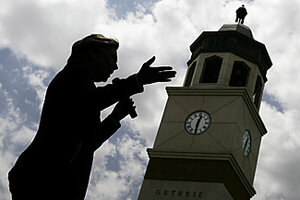 Elise Amendola/ap
By one important measure – pledged delegates – Sen. Barack Obama looks set to seal the deal for the Democratic presidential nomination on Tuesday. But don't expect an outright declaration of victory from the Illinois senator just yet.
More likely, say campaign officials, he will simply assert that he has won the majority of delegates awarded by primaries and caucuses, without saying the nomination has been decided. Polls indicate that Senator Obama should win Tuesday's Oregon primary by a comfortable margin, while Sen. Hillary Rodham Clinton will win the Kentucky primary by an even bigger margin, perhaps 25 to 30 points.
That outcome would be more than enough for Obama to win the 17 pledged delegates his campaign says he needs to ensure a majority, not including those from Michigan and Florida, who remain under dispute. To lock in the nomination, Obama must win over more of the superdelegates, the party leaders and elected officials who may back whomever they wish. In recent weeks, superdelegates have been breaking overwhelmingly in Obama's favor.
Obama's low-key approach reflects the reality of his next challenge – to woo Senator Clinton's supporters and reunite the Democratic Party. With the nomination well within reach, he does not need to put any overt pressure on Clinton to drop out of the race. By all indications, she will compete in the three remaining contests after Tuesday – Puerto Rico, Montana, and South Dakota – which conclude June 3. The Democratic Party's Rules and Bylaws Committee will meet to settle Michigan and Florida on May 31, but party leaders have promised that resolution will not overturn the result of the primaries.
---