For Obama and Clinton, it's back to the future in Florida
Obama visits Wednesday to mend fences for the fall, while Clinton points to her Jan. 29 primary win.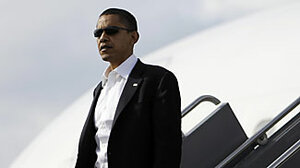 Chris Carlson/ap
Barack Obama's campaign swing through Florida this week is his first since last year, and local newspapers have billed it as nothing short of a peacemaking tour: a chance to mend ties with Democrats still sore that their primary, favoring Hillary Rodham Clinton, was nullified by the national party.
But if Senator Obama is hoping Florida voters forgive and forget, Senator Clinton made clear Monday night that she has other plans. Her campaign said she will show up to campaign in Florida on the same day – Wednesday – as Obama.
That forces him to share the spotlight with the Democrat who trounced him there in January. It reminds party leaders that she was the stronger candidate in the important swing state and throws up another hurdle as Obama tries to pivot toward the general election.
"Obama's hope was to assuage Floridians, that although their votes are not being counted directly, they were of great value to the Democratic Party and much loved by him," says Cal Jillson, a political analyst at Southern Methodist University in Dallas. The timing of Clinton's visit "has got to be a major source of heartburn for the Obama campaign."
---