Both Obama, McCain start seeking No. 2
They need to pick running mates with strong résumés.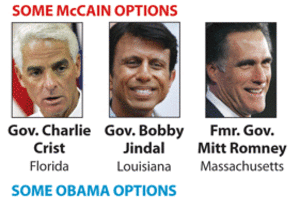 SOURCE: AP PHOTOS/Rich Clabaugh–STAFF
Despite their many differences, John McCain and Barack Obama may be looking for running mates with at least one thing in common: a big-time résumé.
Senator McCain, who is 71, could blunt questions about his age by picking someone younger but with the clear qualifications to take his place, analysts say. For Senator Obama, a first-term senator who is closing in on the Democratic nomination, the choice of a seasoned statesman could mute criticism that he lacks the experience to be president.
"On Obama's side, you have a problem somewhat similar to what President Bush had seven years ago – trying to reassure people that you'll be surrounded by formidable resumes and formidable experience in government," says Joel Goldstein, a professor at St. Louis University School of Law and an expert on the vice presidency. "On McCain's side, you have the need for a plausible successor." Vice presidential picks are typically announced close to the national party conventions in late summer. But with the primary season now winding down, talk of the No. 2 slot is heating up in both parties.
McCain, the presumptive GOP nominee, barbecued for three candidates at his Sedona, Ariz., ranch over the Memorial Day weekend: former Massachusetts Gov. Mitt Romney, Florida Gov. Charlie Crist, and Louisiana Gov. Bobby Jindal.
---