'08 race has got religion. Is that good?
A greater focus on candidates' faith is generally applauded, but some cite reasons for caution.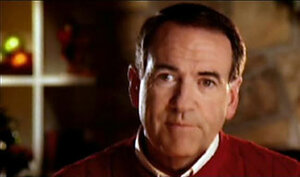 Huckabee Campaign/AP/File
There was Mitt Romney's speech to try to dispel concerns about his Mormon faith. There was Barack Obama's denunciation of certain beliefs of his longtime pastor. Last week it was John McCain's turn to cut himself off from two controversial preachers whose endorsements he had once sought. And throughout the presidential primary season, there have been candidate forums on religious beliefs, plus eager courting of evangelical Christians, Catholics, and other faith groups.
Are religion and faith playing an appropriate role – or an inappropriate one – in the 2008 presidential campaign? So far, it's some of both, say those who've been monitoring the campaign.
There's no arguing that religious speech is more prominent than ever this election season. That's in part because Democratic candidates, traditionally reluctant to discuss religious views out of privacy concerns, have warmed to the topic in recognition that many voters want an understanding of how a president's religious convictions might influence him or her in office.
Whether this focus on candidates' religious views is helpful or detrimental depends, say political observers, on how the political parties, faith groups, and the news media handle faith issues in coming months.
Religious talk in ads and on the stump, "gotcha" questions during debates, and aggressive outreach to religious groups sometimes have crossed the line in ways that some observers say harm the country.
Inappropriate use of religion "can be dangerous and divisive for our pluralistic democracy ... and it can end up harming the integrity of religion," says Melissa Rogers, who teaches religion and public affairs at Wake Forest University in Winston-Salem, N.C. Religious ideas are much bigger than political parties or candidates, she says, but they lose their dimension when people in the pulpit suggest that voters of faith should support a particular candidate or that God looks with favor on one party over another.
---