Bob Barr is new piece in electoral puzzle
The Libertarian nominee could spell trouble for McCain if Ron Paul backers defect from the GOP.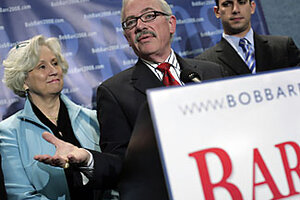 yuri gripas/reuters
Newly minted presidential nominee Bob Barr of the Libertarian Party may not be a household name, but the former Republican congressman from Georgia has caught the attention of the GOP's most passionate wing: supporters of libertarian-leaning Rep. Ron Paul (R) of Texas.
Though Mr. Paul is still running for president as a Republican, and scoring a fair share of votes in the late primaries – he won 16 percent in Pennsylvania – Sen. John McCain of Arizona has locked up the Republican nomination. But in the fall, Senator McCain will need all the votes he can get. And if a significant number of Paul supporters coalesce around Mr. Barr, that could spell trouble for McCain.
But that's a big "if." At the party convention in Denver last weekend, Barr won the Libertarian nomination on the sixth ballot, amid deep divisions over the direction of the party. Libertarianism centers on a belief in small, unintrusive government and puts a premium on individual liberty. As a member of Congress, Barr was known for three things: helping manage the impeachment of President Clinton, the war on drugs, and opposition to gay rights.
---