How Pelosi tends a more divergent flock
House speaker's skills are being tested by Democrats' greater ideological diversity – a challenge that will intensify if the party picks up more seats in November.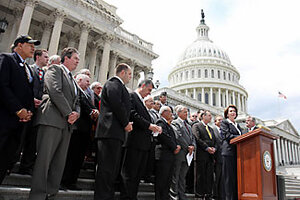 lauren victoria burke/ap
Democratic wins in three recent special elections for House seats, and expectations that Democrats will pick off even more Republican slots in November, are good news for Nancy Pelosi.
What House speaker wouldn't smile about a bigger majority with which to drive the legislative agenda? But it's also likely that a larger herd of Democratic lawmakers will mean a more diverse group that could prove harder for Ms. Pelosi to control.
Whether she can manage a caucus that is even more diverse than the current one may well become a defining test of what so far has been a disciplined speakership. Already, House Democrats are split on major issues such as how to wind down the Iraq war, domestic spending, and control of US borders. Moreover, many Democratic freshmen represent conservative districts: They're wary of government spending; oppose gun control, gay marriage, and abortion rights; and campaign at arm's length from national Democratic leaders, including Pelosi.
Pelosi calls these conservative Democrats her "majoritymakers," and she has so far taken care to accommodate their political needs. They've received visible committee assignments, early infusions of party money to campaign war chests, and an open door to their concerns.
For former GOP Speaker Dennis Hastert, the rule was to never allow a vote that would not be supported by most of the Republican caucus, or "a majority of the majority." For Pelosi, the calculus is more complex, say colleagues who have worked with her on tough issues.
---