Michigan and Florida: the Democrats' trickiest decision
A committee meets Saturday on Michigan and Florida delegates.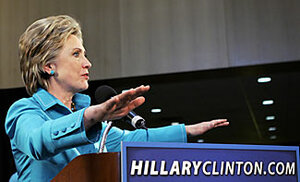 elise amendola/ap
When the Democratic Party's Rules and Bylaws Committee meets on Saturday, the party will enter its most delicate moment of the entire primary season: what to do about the rogue states of Michigan and Florida, which held their primaries sooner than party rules allowed.
As punishment, the party stripped both states of all their convention delegates. But that sanction will not stand; the party cannot afford to alienate voters in two important battleground states.
There are many stakeholders. Hillary Rodham Clinton needs an outcome that cuts into Barack Obama's lead in delegates toward the Democratic presidential nomination. (She won both states, though Obama's name was not on the ballot in Michigan.) Senator Obama needs an outcome that does not threaten his lead, but also leaves Senator Clinton's supporters willing to back him in the fall.
Democratic voters in Florida and Michigan need to feel enfranchised and excited about supporting their party's ticket in November. And the Democratic National Committee needs to maintain control of its primary process. All signs point toward a loss of some (probably half) but not all of the Michigan and Florida delegates.
Democratic strategists and other analysts foresee a resolution this weekend – one that positions Obama to wrap up the nomination soon – but there's always a chance Team Clinton opts to appeal to the party's credentials committee, which does not meet until summer. Its decision would then face ratification by the convention in late August, which opens up the possibility of a floor fight.
---