In sealing nomination, Obama makes history
He's the first African-American to head presidential ticket of a major party, winning Democrats' long war of attrition.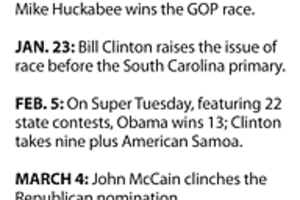 RESEARCH: LEIGH MONTGOMERY AND CORINNE CHRONOPOULOS, GRAPHIC: RICH CLABAUGH – STAFF
The 2008 Democratic presidential primaries may well be remembered as a Waterloo for conventional wisdom.
The vaunted Clinton political machine was supposed to be unstoppable. Barack Obama was labeled "not black enough" to win over African-American voters. The primary calendar was so front-loaded that it would assuredly, experts predicted, mint a winner by Super Tuesday. No Democrat, the theory went, could win the nomination without big victories on the coasts.
With the old verities falling like so many bowling pins, it is perhaps no wonder that the nomination fell to the candidate best able to communicate – and embody – change.
The young first-term senator won not just because of a shrewd campaign that inspired legions of new voters, set fundraising records, and invested in oft-overlooked small-state caucuses. Nor was it just the tactical errors of Hillary Rodham Clinton, among them a strategy based on the flawed assumption of a Super Tuesday coronation.
Just as important, analysts say, was a clamor for fresh faces and new ideas from a party too long in the wilderness. For many voters, it seems, memories of the Bill Clinton era were never as uncomplicated as his wife's supporters hoped they would be, a situation worsened by what critics saw as the former president's intemperance on the campaign trail.
With President Bush's approval rating at an all-time low and more than 4 in 5 Americans telling pollsters they're unhappy with the country's direction, there has seldom been a riper moment for a sea change in Washington, analysts say.
---