McCain and Obama: a stark matchup
They're both mavericks, but they differ sharply on issues and how to govern.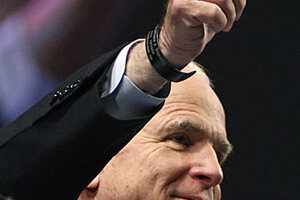 Jim Young/REUTERS
The contrasts could not be more stark: an African-American Democrat versus a white Republican. The latter old enough to be the father of the former. One with no military experience, the other with a long Navy career punctuated by a harrowing period of captivity in a Hanoi prison camp. One with a soaring rhetorical style that can light up a sports arena, the other more comfortable in the back-and-forth banter of a town-hall meeting.
Then there are the policy differences between the two presumptive major-party nominees for president. John McCain (R) is one of the Senate's most outspoken supporters of the Iraq war, while Barack Obama (D) has opposed it from the start. Senator McCain wants big tax cuts and less government spending; Senator Obama wants tax breaks targeted at the middle class and greater government involvement in job creation. On healthcare, McCain emphasizes consumer choice and market forces, while Obama favors government action that puts the nation on track toward universal coverage.
As the 2008 general election campaign kicks off, one point is already certain: The outcome will be historic. America will elect either its first African-American president or its oldest first-term president. But just as striking as their differences is a key similarity. Neither was the first choice of their party establishment for the nomination, and both have promised "a different kind of politics" from the highly partisan, divisive wrangling that has come to mark Washington for the past 20 years.
---