Economic risks imperil climate bill
In the Senate, opponents focus on pump prices and tax consequences.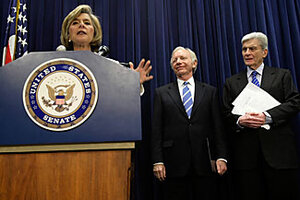 alex wong/getty images/newscom
Seventy-four senators voted this week to begin debate on a sweeping bill to curb carbon emissions, but agreement on any point of law from now on gets tougher.
The terms of the debate have shifted dramatically from 2003 and 2005, when the Senate rejected previous moves to curb global warming.
Largely out of this week's debate are cries that global warming is a "hoax" or that claims that carbon emissions affect the climate are simply bad science. There's also broad agreement that Washington should increase investments in clean energy technology.
Instead, the fault line in this week's debate is the scope of the role for Washington in curbing emissions and its likely impact on the economy.
"Climate change is an issue that all of us are concerned about, but there's a right way and a wrong way to tackle the problem. And driving the price of gasoline even higher is clearly not the way to go," said Republican leader Mitch McConnell at a briefing on Tuesday.
GOP opponents say the proposed Senate bill will cost $6.7 trillion over the 50-year life of the bill and increase gas prices by anywhere from 53 cents to $1.40 a gallon by 2050, the result of which will be increased costs for American families and more manufacturing jobs sent to foreign countries.
"Unless we have the technology to make a steep and quick emissions cut that the sponsors want, this bill will do nothing but add $6.7 trillion, a tax increase on American families and workers," says Rep. James Inhofe (R) of Oklahoma, the leading opponent of global-warming legislation.
---
Follow Stories Like This
Get the Monitor stories you care about delivered to your inbox.