Hillary Clinton shattered a political glass ceiling
Despite some sexism on the campaign trail and in the media, her gender won many votes, too.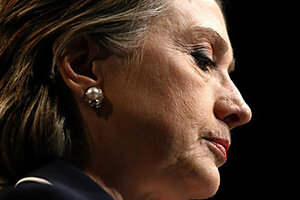 Kevin Lamarque/REUTers
Many of the factors that led Hillary Rodham Clinton's historic presidential campaign to fall short are by now well-cataloged.
The New York senator based her initial message on inevitability, toughness, and experience when the public was clamoring for change. She underestimated the importance of small caucus states, barely competing in some, and allowed Barack Obama to rack up a lead in pledged delegates that proved impossible to overcome.She assumed she would have the nomination wrapped up on Feb. 5, Super Tuesday, and when she didn't, had to scramble to organize and raise more money. She got beaten by Senator Obama in Internet fundraising and organizing. And her husband, the former president, proved at crucial times to be a liability.
But with Senator Clinton prepared to suspend her campaign Saturday, gender does not belong on that list, analysts say. Certainly, she encountered sexism on the trail and in media coverage, and a quick cruise around the Web could have found some of the crudest examples of misogyny imaginable aimed at her. But being female did not cost her the nomination.
"No, it was a good thing," says Dianne Bystrom, director of the Carrie Chapman Catt Center for Women and Politics at Iowa State University. "I think she got support because she's a woman. I think Barack Obama is getting support because he's African-American. It's because people want something different. Both campaigns are historic, and the [simultaneous] timing is unfortunate."
---