As Bush launches farewell tour, Europe warms up
The US-German relationship is perhaps the clearest example of improving ties since the Iraq war began.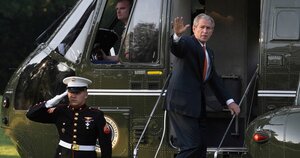 Ron Edmonds/AP
Berlin - It's au revoir, auf Wiedersehen, and arrivederci for George W. Bush during an eight-day final bow across Europe, starting with a European Union summit in Slovenia Tuesday.
During Mr. Bush's presidency, attitudes among America's main allies swung sharply pro then con – though now show some signs of a return to normalcy and a renewed recognition of the role the US plays in Europe and the West, many experts here say.
The trip takes place amid what one German official calls an "astounding" interest in the US presidential elections, and a palpable readiness for change at the top in Washington.
Goodbyes to Angela Merkel in Berlin, Silvio Berlusconi in Rome, and Nicolas Sarkozy in Paris, where Bush will push hard for help at a June 12 Afghan donor conference – will showcase Bush's newly affirmative relations with key heads of state here.
---