Economy is top priority for Obama, McCain, and voters
Presidential candidates have very different views on how to handle taxes, jobs, home foreclosures, and fuel prices.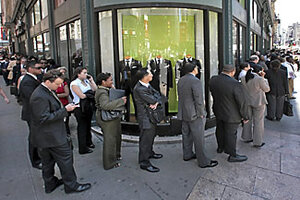 Bebeto Matthews/AP
Gasoline prices at $4 a gallon. Home foreclosures at record levels. Most Americans saying they are financially worse off than they were a year ago, the highest number (55 percent) in more than three decades of Gallup polling.
And on Friday, a one-two punch: a stock market plunge and a government report showing the steepest jump in the jobless rate in 22 years.
With the general election at last under way, no policy issue is likely to dominate the presidential race as much as the economy. The implications for both candidates are huge: President George H.W. Bush lost a second term in 1992 to a Democrat – Bill Clinton – who reminded himself of voters' priorities with a sign at his campaign headquarters that has served as a guidepost for candidates ever since: "It's the economy, stupid."
Barack Obama, who struggled to win over white working-class voters during the Democratic primaries, is wasting no time reaching out to them now. He launched his general election campaign Thursday in southern Virginia coal country, telling voters that "so many people have been forgotten" and that "Washington hasn't been listening to you."
A two-week campaign tour that began Monday in North Carolina and sweeps through a series of swing states will focus exclusively on economics issues. Senator Obama, his campaign says, will be "talking to Americans about how the economy affects their everyday lives."
---