How Clinton and Obama boosted feminism, civil rights
The primary contest helped both of the historical causes, though some tensions erupted.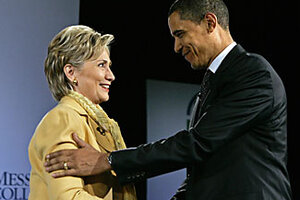 Carolyn Kaster/AP/File
The race between Barack Obama and Hillary Rodham Clinton may be over, but its effects on the broader movements for racial and sexual equality in America are likely to be felt – and debated – well past the fall.
Senator Obama's victory roused blacks who never thought they would see an African-American this close to the presidency, not in a country with a shameful history of slavery. Senator Clinton embodied the aspirations of millions of women, many of whom saw in her defeat a culture still rife with sexism.
If nothing else, say activists and scholars, 2008 was a quantum leap forward in the long struggle for equal representation at the highest levels of government.
The United States once refused both blacks and women the right to vote. An eight-way nomination fight in a major party that narrowed to an African-American and a woman is a singular feat that broke down doors and is likely to inspire a parade of successors.
"Both Obama and Hillary Clinton have transformed what people, from all walks of life, believe is possible," says Blair Kelley, a historian of social movements at North Carolina State University in Raleigh.
But some feminist leaders say reaction to Clinton's candidacy reflects just how much work remains. Commentators in the news media dissected everything from Clinton's laugh and clothes to her ankles and cleavage, and hecklers at a New Hampshire campaign stop in January shouted, "Iron my shirt!"
---