Pentagon ponders transition in time of war
Officials want to ensure the change to a new administration goes smoothly.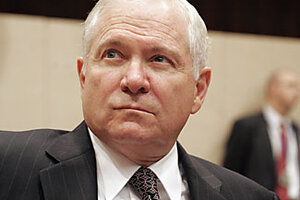 Virginia Mayo/AP
The Pentagon is making a pointed effort to ensure that the transition to a new administration in January 2009 – the first time in 40 years that a handover of power will take place during wartime – goes smoothly, minimizing the risk of disruptions or attacks on military operations during the changeover.
Many would like to see Defense Secretary Robert Gates, who succeeded Donald Rumsfeld in 2006, stay on to maintain continuity at a critical time. While it remains unlikely but possible that he is asked to stay by a new presidential nominee, Mr. Gates says he is focused on a smooth transition.
Gates and his chief uniformed adviser, Adm. Mike Mullen, chairman of the Joint Chiefs of Staff, have separately charged two groups to prepare the Pentagon for the handover. This week, the Pentagon's Defense Policy Board will meet to discuss what specific issues the new Defense team must focus on to get off to "a running start," says an internal memo from John Hamre, chairman of the policy board. Also this week, a separate group of about a dozen uniformed officials led by Brig. Gen. Frank McKenzie of the Pentagon's Joint Staff will look at similar transition issues from inside the building.
Admiral Mullen is trying to put together "a transition team of folks within the Joint Staff that will help him provide the best advice to the new administration when they're in place," says a Pentagon official who asked not to be named. "How to keep it seamless at a period of time that it's not inconceivable that an enemy might want to take advantage of the changing government."
---
Follow Stories Like This
Get the Monitor stories you care about delivered to your inbox.