Fired U.S. attorneys case hits judicial roadblock
A cautious judge may be good news for Bush officials in ongoing subpoena struggle.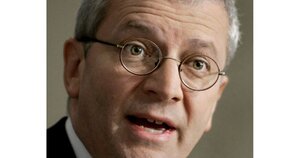 J. Scott Applewhite/AP/File
Washington - For months, the Democratic-controlled Congress and the Bush administration have been locked in a potentially historic battle over whether top White House aides will ever testify about the controversial firings of federal prosecutors in late 2006.
But now these two branches of government may have hit a roadblock on their way to a constitutional confrontation.
A federal judge on June 23 appeared very reluctant to rule on the administration's broad claim of executive privilege in the case. Historically, the judiciary has been hesitant to meddle in this area unless the stakes are clear and high.
"Whether I rule for the executive branch or I rule for the legislative branch, I'm going to disrupt the balance [of powers], said US District Judge John Bates.
For Bush officials this attitude may be a bit of good news. It means a new president will likely be in office before the dispute is resolved – and the next administration, or the next Congress, may decide to just drop the whole thing.
Judge Bates "might just let the clock run out on this," says Carl Tobias, a law professor at the University of Richmond in Virginia.
At issue in a three-hour hearing in a federal courtroom on June 23 was a demand from the House Judiciary Committee for documents and testimony from the president's chief of staff, Joshua Bolten, and former counsel, Harriet Miers, about the US attorney dismissals.
---