California water shortages to boost some crop prices
With fuel costs also rising, customers are likely to see the price of tomatoes, melons, and lettuce go up.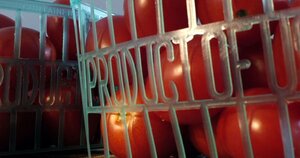 Richard B. Levine/Newscom
Oakland, Calif. - This summer, it's a triage of leaf and limb in California's water-starved Central Valley.
At Blackburn Farm in Firebaugh, workers prematurely killed one almond grove and are frantically digging new wells to save the remaining almond crop. Their neighbors are walking away from 1,600 acres of cotton to salvage tomatoes.
Water shortages in California, coupled with high fuel costs, mean customers can expect rising prices for some fruits and vegetables, particularly melons, canned tomatoes, and perhaps lettuce. The situation turns the screws on Sacramento to solve the state's decades-old water standoff between its cities, farmers, and environmentalists.
"We have wrung much of the flexibility out of the water system," says Dave Kranz, spokesman with the California Farm Bureau. "The demands are greater primarily from urban growth and redirection of water for environmental purposes."
The state is estimating crop losses of $167 million for 2008, according to the California Department of Food and Agriculture.
Several events coincided. A court reduced the water that can be moved from the flush north to the drier south in order to protect the endangered delta smelt fish. And the snow in the Sierras started strong, but stopped abruptly mid winter. Then the spring rains never came.
---