High court strikes down 'millionaire's amendment'
The move against the fundraising exceptions for wealthy candidates is the latest blow to McCain-Feingold reforms.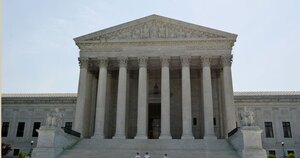 Charles Dharapak/AP
WASHINGTON - The US Supreme Court on Thursday struck down the so-called "millionaire's amendment" of the McCain-Feingold campaign finance law, saying it violated free-speech protections.
In a 5-to-4 ruling, the high court said Congress cannot use federal election laws to disadvantage candidates who choose to use their own money to run for a seat in Congress.
The idea behind the law was to prevent a wealthy candidate from using massive personal spending in a campaign to drown out the voices of other candidates. It was also intended to counter the impression that seats in Congress can be purchased.
"The unprecedented step of imposing different contribution and coordinated party expenditure limits on candidates vying for the same seat is antithetical to the First Amendment," Justice Samuel Alito wrote in the majority opinion.
"The Constitution ... confers upon voters, not Congress, the power to choose the members of the House of Representatives," Justice Alito wrote. "It is a dangerous business for Congress to use the election laws to influence the voters' choices."
The ruling in Davis v. Federal Election Commission (07-320) marks the second time in as many years that the high court has invalidated a portion of the McCain-Feingold Bipartisan Campaign Reform Act (BCRA).
---