California wildfires spark call to boost resources
But there's growing recognition that more trucks won't solve the root problem of wildlands development.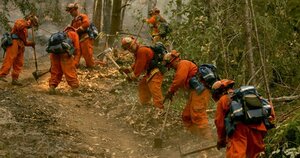 Kent Porter/AP/The Press Democrat
Oakland, Calif. - It's early in the summer for California's firefighters to be outgunned, but it's an increasingly common situation in recent years.
More than a thousand fires are burning across northern California's wildlands, forcing federal, state, and local firefighters to make tough triage decisions. With homes and human life as first priorities, at least one local timber company has had to hire its own private firefighters.
Now, fire chiefs are sounding the alarm about the chronic shortfalls in resources. A blue-ribbon panel last week called on the state to add more trucks, helicopters, and fully staffed teams to its fire arsenal.
Gov. Arnold Schwarzenegger supports beefing up the forces. But he's proposing to pay for it with higher fees on homeowners in fire-prone areas, reflecting concerns here that wildlands development lies at the root of the problem.
"Just having more trucks once the fire has started is like saying the solution to healthcare in America is to have more emergency rooms," says Bill Stewart, a forestry specialist at the University of California in Berkeley.
He has studied building patterns in the so-called wildland-urban interface. New housing there has been popping up almost twice as fast in unincorporated areas than within city limits, he says. "A lot of houses out there are in places that don't have a well-funded local fire department, and they are just hoping the state has enough resources to come and help fight the fire," he says.
Increasingly, the state does not.
---