Obama, McCain campaigns go global
The two presidential candidates plan trips abroad to build their foreign-policy credentials.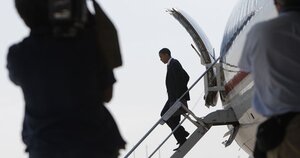 Jae C. Hong/AP
Washington - Globalization has hit American presidential politics.
As never before, the two main candidates have carved out international itineraries that are taking them to major world capitals and hot spots – a diversion from the usual hopscotch campaign map that tends to favor the swing regions of, say, Ohio and Florida.
For Republican John McCain, multiple trips to Iraq, a recent visit to Canada, and a swing through Latin America that begins Tuesday showcase an already strong international profile from his Navy years, followed by more than two decades on the Senate Armed Services Committee. A meeting (and photo op) in Washington last Saturday with Iraqi President Jalal Talabani shows that Senator McCain doesn't even need to leave the country to burnish his foreign-policy credentials.
For Democrat Barack Obama, a multinational tour of Europe and the Middle East scheduled for mid-July aims to add some heft to the Illinois senator's light foreign-policy résumé – and, in Europe at least, tap into the Obamamania that's already in full flower.
---