Congress frets as its ratings plummet
Poll: Only 12 percent of Americans have much confidence in the legislative branch, a record low.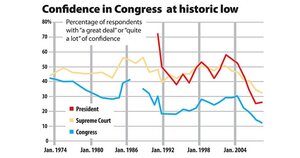 SOURCE: Gallup/Rich Clabaugh–STAFF
Washington - Members of Congress are used to working in an institution that gets no respect, but a recent plunge to the bottom of confidence ratings – and a week back home with constituents riled over gas prices – is raising alarms even on thick-skinned Capitol Hill.
Some Democrats blame the Republicans, especially GOP senators who have used procedural maneuvers to block votes on key legislation.
"It's worrisome, but I understand it: The strategy of the Republicans has been to stop anything from happening – and people think that nothing is being done to help their lives," says Sen. Debbie Stabenow (D) of Michigan.
Some Republicans worry that the public doesn't know enough about Congress to blame the right party.
"Not only does Congress have an approval rating below bubonic plague and head lice, I saw a recent poll that as many as 40 percent of people still believe that Congress is in Republican hands," says Rep. Jeb Hensarling (R) of Texas. "I wish we could get a little accuracy out there about who is in charge – and let those ratings fall where they may."
A recent Gallup Poll confirms what many lawmakers say they're hearing from their constituents: that confidence in Congress has never been lower. Only 12 percent of Americans say they have a "great deal" or "quite a lot" of confidence in Congress as an institution – the lowest level ever for any US institution since Gallup began asking the question 35 years ago. Congressional job approval, a slightly different question, has dropped to 18 percent.
---