Social activists hunt for congressional seats ... in G.O.P. districts
Tom Perriello of Virginia is among a new breed of Democrats competing strongly in places that usually vote Republican.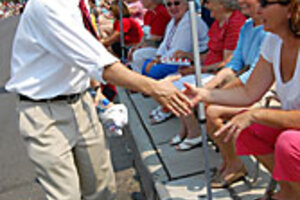 Rob Chaddock
Except for the 10-year-old work boots he wears to every campaign stop, Tom Perriello – a netroots "social entrepreneur" – doesn't look like a close fit with the rural Virginia district he hopes will send him to Congress.
He's not donning hunting garb or endorsing a constitutional amendment to ban same-sex marriage. His credentials are not in elected office or business, but mainly in creating social-action groups over the Internet, working for reform in places that aren't exactly top of mind in Virginia's Fifth Congressional District, such as Sierra Leone, Kosovo, and the Sudan.
But in an election when voter sentiment is running high against traditional politics and politicians, Mr. Perriello's unconventional résumé – and those of a handful of other Democratic hopefuls with backgrounds similar to his – could be an unexpected asset for strategists hoping for a "blue" wave in November. Last week, two Washington-based handicappers upgraded the competitiveness of this race, from "solid Republican" to the less-certain "likely Republican."
"It's not a traditional profile for a political candidate, but ... it is playing very well," says Fred Hudson, chairman of the Democratic Party Committee in Virginia's Fifth.
---