U.S., India revive sweeping nuke deal
But the pact, which some dub a 'sweetheart deal,' may not pass the US Congress in time.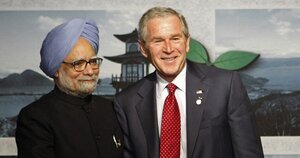 Jim Young/Reuters
Washington - Considered a lost hope just last month, a US-India nuclear energy deal has sprung back to life and may yet end up one of the most significant geopolitical initiatives of the Bush presidency.
The pact is designed to provide India with American nuclear fuel and technology for civilian power while allowing it to retain its military nuclear arsenal. The accord is envisioned by the Bush administration as a way of cementing relations with the world's largest democracy while enhancing its role as a counterpoise to a rising China.
Both President Bush and Indian Prime Minister Manmohan Singh lauded the deal when they met Wednesday on the sidelines of the G-8 summit in Japan. Mr. Singh invoked nuclear cooperation as part of a new strategic relationship that has the US and India standing "shoulder to shoulder."
But the deal, reached between President Bush and Prime Minister Singh in 2005, still requires parliamentary assent in India and congressional approval in the US. While Mr. Singh appears to have raised the pact from the dead by eking out a small majority in favor, the accord could still get bogged down in the US.
---