How the candidates' speaking styles play
McCain is unscripted. Obama is soaring. In these times, both styles have their advantages.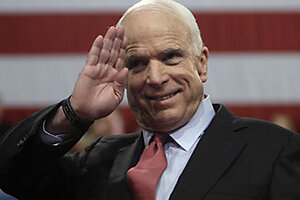 Carolyn Kaster/ap
John McCain has made nuclear power a centerpiece of his energy plan. But at a town hall-style meeting in this struggling Appalachian city Wednesday, the first person he called on was a local woman in the corner with a hand-drawn "No Nukes" sign.
"Because of the interest of exchanging ideas and views that we may not agree with," Senator McCain said, striding toward her in the high school gymnasium, "I'll bring you a microphone, and you and I can have a little exchange and dialogue."
It's the kind of gesture seldom seen from McCain's Democratic rival, Barack Obama, a wizard of oratory who can rock a stadium but is less at ease in the sort of unscripted exchanges that are perhaps McCain's only rhetorical trump.
If the 2008 election is a study in contrasts, few are as striking as the candidates' differences as public speakers.
McCain is the blunt-spoken platoon leader, briefing soldiers for battle. Senator Obama is the evangelist, calling out from the hilltop. McCain levels. Obama transcends. McCain is straight talk, Obama great talk.
When Democrats announced this week that Obama would accept his party's nomination at a 75,000-seat football stadium – on the anniversary, no less, of the Rev. Martin Luther King Jr.'s "I Have a Dream" speech – McCain advisers waved off questions about how Republicans would compete.
---