Obama, McCain court rising Latino vote
Hispanics could decide the outcome in some swing states in the West.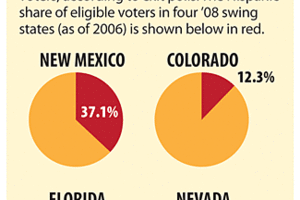 SOURCE: Pew Hispanic Center, December 2007/Rich Clabaugh–STAFF
Hispanic voters are being courted with unprecedented vigor ahead of November's presidential election, amid rising prospects that they could be the decisive bloc in several key battleground states.
Barack Obama and John McCain both seem keenly aware of Hispanics' political growth spurt and of their potential to turn the election, opening offices in Spanish-speaking neighborhoods, trying to win over advocacy groups, and targeting ads to Hispanics. Each is slated to talk to the largest Hispanic rights organization in the US, the National Council of La Raza (NCLR), during its annual convention Sunday and Monday in San Diego.
"It's going to be a historic election ... because Latinos are responding in an unprecedented manner to take part," says Clarissa Martinez De Castro, director of immigration and national campaigns for NCLR. "You can't get to the White House anymore without building a relationship [with] and being concerned about the Latino community."
While the political attention is generating a mix of excitement and hope among Hispanics, many NCLR attendees wonder if anything will change as a result. Will it ultimately bring about immigration reform allowing for eventual citizenship for many illegal immigrants, put more Hispanics in high-level administration positions, help end discrimination, or ease the plight of hard-working families coping in tough economic times?
---