David Axelrod: architect of Obama's unlikely campaign
Barack Obama's chief strategist grew up loving the political fight while holding to the ideals in the message.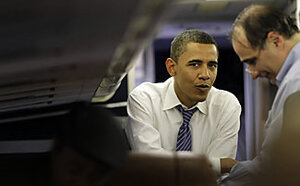 Alex Brandon/AP
These days, it's hard to remember a time when Barack Obama wasn't a front-runner for the Democratic nomination.
But last fall, Sen. Obama was down 33 points in one national poll, Hillary Rodham Clinton was the presumptive nominee, and Obama's campaign staff was under enormous pressure to shake things up and try a different tactic.
They didn't.
That decision – to stick to a largely positive message rooted in hope and change, convinced it was the one that would resonate with the public – is due in large part to Obama's chief strategist, David Axelrod.
"Barack was the insurgent here, and he won, and that's a testament to Barack and to David, because history is against the insurgent," says Rahm Emanuel, a Democratic congressman from Illinois and a friend of Mr. Axelrod. "These guys decided to double down on 'change' ... They took a gamble that people's attitudes would still be hungry for more of the same."
As political scientists dissect just what happened between last fall and this spring, and how a junior senator with a funny name and little experience on the national stage was able to dethrone the Clintons, much of the credit will likely go to Axelrod – and to what is a pairing of candidate and adviser who are unusually well suited to each other.
He's Obama's answer to Karl Rove, the big-picture architect of the campaign who always seems to have his pulse on what will resonate with voters. But he's also, say colleagues, a rarity among political advisers: someone who still carries the idealism that got him started in the business.
---