With Medicare vote, G.O.P. splitting from Bush
Despite the president's opposition, the bill passed with vetoproof majorities.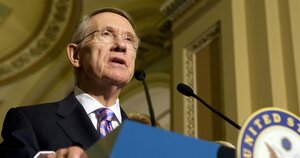 Patrick D. McDermott/UPI/NEWSCOM
Washington - If President Bush opts to exercise his veto threat on a Medicare bill this week, he can no longer count on Republicans to back him up.
That's the political fallout from last week's surprise Senate vote that saw 18 Republicans – including nine who reversed previous stands – vote with all Democrats to block a mandated 10.6 percent cut in payments to physicians who treat Medicare patients. On the House side, 129 Republicans broke with the White House in a June 24 vote on the bill.
If these votes hold, Congress wields more than a vetoproof, two-thirds majority in both houses. The lopsided votes are already spurring talk among Democrats of reviving previously vetoed legislation, such as a bid to expand the State Children's Health Insurance Program (SCHIP).
"This legislation sends a tremendous message to the American people, and, I hope, paves the way for bipartisan activity," said Senate majority leader Harry Reid after the July 9 vote.
---