A housing rescue nears – but for whom?
Minority neighborhoods would especially benefit from a $3.9 billion aid package.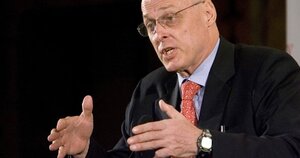 Richard Drew/AP
Washington - – As Congress heads into a critical week of votes on how to relieve America's home-foreclosure crisis, one of the toughest issues will be how to deal with the racial and ethnic dimensions of the problem. Minorities will be watching closely to see who gets the help.
There's broad support on Capitol Hill for shoring up government-sponsored home-mortgage giants Fannie Mae and Freddie Mac: They're too big to fail, many say. But there's much less consensus over what to do about people who are losing their homes, especially in poor, inner-city neighborhoods – or even over how to understand their plight.
The racial overtones of the foreclosure crisis are taking on a higher profile as Congress wrestles with the shape of a fix this week.
At issue is a proposed $3.9 billion in block grants to help states or local governments buy and demolish or rehabilitate foreclosed properties to try to stem urban blight. The money is expected to flow to minority neighborhoods, in particular.
While there are big gaps in available data, industry analysts expect that black and Hispanic homeowners will bear the brunt of the foreclosure crisis. But is it because they overextended and should not have been in the housing market to begin with? Or were they the unsuspecting victims of predatory lending?
"Black and Hispanic families have gotten a disproportionate share of subprime lending, and subprime loans are the driving force behind the foreclosures," says Katheen Day, spokeswoman for the Center for Responsible Lending, a nonprofit research and policy group based in Durham, N.C. "We know that black and Hispanic communities are hardest hit."
---