Berliners welcome Obama as they did JFK
The Democratic presidential nominee, who delivers the sole public foreign policy speech of his overseas tour here Thursday, was dubbed 'president of the world' by Der Spiegel.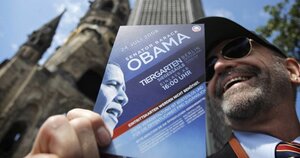 Johannes Eisele/Reuters
Berlin - The centerpiece of Barack Obama's overseas tour comes Thursday in Berlin when the Democratic presidential candidate gives the only public foreign policy speech of his trip to an Obama-mad crowd of Germans who see him as another John F. Kennedy. He's in a country and a continent making no secret it is ready for change.
"Germans have a great desire to see this as a historic moment," says Bastian Hermisson of the Heinrich Boll Foundation, who estimates that 100,000 will turn out for the speech. "His message that people can hope the world can change for the better – that resonates. The excitement is a sign that we still feel the US is a relevant force, an influence for better or worse."
On his much-scrutinized world jaunt to listen and learn, the Illinois senator is visiting a city at the heart of America's traditional alliance after visits to Afghanistan and Iraq, where the US-Europe relationship is most at risk for reasons of war, oil, and security.
Berlin, twice rebuilt in the 20th century, has symbolic significance, experts say – both for Europe's past and its future. Germany is regarded as the political epicenter of Europe, strategically located between East and West. America may cherish its relations with Paris and London, where Obama travels next, but to move Europe as a whole will require the next president to bolster ties with Berlin, experts say.
---
Follow Stories Like This
Get the Monitor stories you care about delivered to your inbox.