Citizen journalists make new inroads into political reporting
An MSNBC contest will pick two amateur reporters this week to cover the party conventions.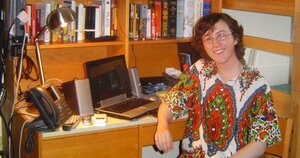 courtesy of Nathan Robinson
If you click onto MSNBC.com for political updates, a month from now you may get some of your news from a fresh-faced, accordion-playing college sophomore named Nathan Robinson.
One of five finalists in a contest sponsored by MSNBC.com, NBC News, and MySpace, Mr. Robinson finds out Tuesday if he'll be one of two citizen journalists covering either the Democratic or Republican convention for MSNBC.com. For him, it's a chance to liven up mainstream journalism. For MSNBC, it's an attempt to bring a new perspective to the news.
Stuck with rising competition from Internet-mediated news, traditional media have been reaching out to Web-savvy citizen journalists to expand their online audiences. But only this year have major television networks and their web affiliates begun carving out reporting slots for nonprofessionals on one of their marquee topics: the presidential election.
Besides MSNBC.com's Decision '08 Convention Contest, CNN's citizen media site, iReport, announced a film festival for reader-submitted videos from the campaign trail. ABC News' user-generated site, i-Caught, has asked readers to send in video thoughts on the most important issue of the campaign, with the best comments slated to appear on television.
The trend is surfacing even as heightened competition between traditional media and citizen media strains relations between professionals and amateurs, who lack formal training in journalism standards and often publish material without a rigorous vetting process.
---