Alaska's 'earmarks' king Stevens, now indicted
Some predict the charges may end the career of an Alaskan icon who has dominated the state's political scene since territorial days.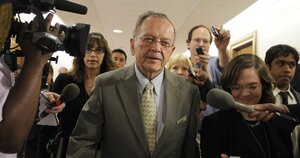 Susan Walsh/AP
Girdwood, Alaska - It is, according to federal prosecutors, the scene of the crime. But as potential illegal payout, it appears a paltry trade for what could be the ruin of Alaska Sen. Ted Stevens's long legacy of public service.
The modest chalet-style house on a dirt road south of Anchorage has peeling brown paint, a front lawn in need of mowing, and a pair of handmade campaign signs. The house, the official Alaska residence of Senator Stevens, was expanded and remodeled through unreported gifts from VECO Corp., a company that was once a giant in both the Alaska oil fields and the halls of political power, according to a federal indictment issued in Washington Tuesday.
The charges against Stevens are part of a federal probe of political corruption in Alaska that so far has sent three former state lawmakers to prison. The investigation is forcing Alaskans, who receive more federal funds in earmarks per person than residents of any other state, to take a harder look at their heavy reliance on US tax dollars and to ask whether the mutual back-scratching that has long characterized business and politics here needs to be reconsidered.
With Stevens's indictment, some see an end of that era. Others predict it may also end the career of an Alaskan icon who has dominated the political scene since territorial days.
"The phrase that comes to mind is 'sic transit gloria.' It is the end of an era," says Jerry McBeath, a University of Alaska Fairbanks political scientist.
---