Texas test case for candidates' energy plans
The candidates share many concerns, but have clear differences in approach, too.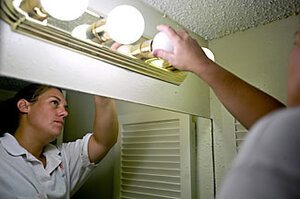 Ann Hermes
As part of his solution to America's energy woes, Barack Obama wants to phase out the common light bulb in six years.
The Democratic senator's solution – under current law they phase out in 12 years – is taking place here where a city contractor is busy replacing incandescent bulbs with energy-saving compact fluorescent models. The goal: reduce power consumption so the city doesn't have to build another power plant.
John McCain's energy proposals include nudging Detroit to build vehicles more quickly that run on multiple fuels, such as ethanol or biodiesel.
The Republican senator's solution is also taking place here, where city vehicles can use one of six alternative fuels instead of conventional gasoline. The city's goal: lower greenhouse-gas emissions.
Welcome to the sweltering laboratory for some of the energy solutions proposed by both candidates in an election year when the economy and energy are the top issue for voters. For months – including this week – the candidates have been sniping away at each other over gasoline taxes, energy rebates, and offshore oil drilling.
Like many of the candidates' ideas, some of Austin's plans won't have an immediate effect – it could be 10 years or more until some of the efforts reduce the city's energy consumption in part because the technology is just not sufficient yet. But other ideas, such as a real push for conservation, are already paying dividends, reducing some of the need to build new power plants. In some cases, the city has thought about some of the candidates' proposals and already rejected them.
---