Obama, McCain differ on abortion rights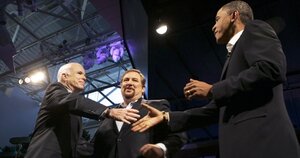 Mary Atlaffer/AP
LAKE FOREST, Calif. (AP) — Presidential contenders Barack Obama and John McCain differed sharply on abortion Saturday, with McCain saying a baby's human rights begin "at conception," while Obama restated his support for legalized abortion.Appearing on the same stage for the first time in months, although they overlapped only briefly, the two men shared their views on a range of moral, foreign and domestic issues as they near their respective nominating conventions.
Obama said he would limit abortions in the late stages of pregnancy if there are exceptions for the mother's health. He said he knew that people who consider themselves pro-life will find his stance "inadequate."
He said the government should do more to prevent unwanted pregnancies and to help struggling new mothers, such as providing needed resources to the poor, and better adoption services.
McCain expressed his anti-abortion stand simply and quickly, saying human rights begin the instant a human egg is fertilized. McCain, who adopted a daughter from Bangladesh, also called for making adoption easier.
The men's comments came at a two-hour forum on faith hosted by the minister Rick Warren at his megachurch in Orange County, Calif. Obama joined Warren for the first hour, and Obama for the second. The two candidates briefly shook hands and hugged each other during the switch.
---