Michelle Obama's story
In many ways she would make history as first lady.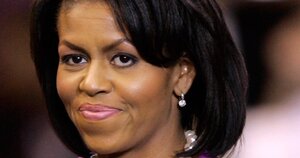 Morry Gash/AP/File
Chicago – As she tells it, Michelle Obama's first reaction when she heard her husband talk about running for president was, "Absolutely not! Please don't do this!"
She was wary of the nastiness of politics, of the grueling nature of such a campaign, and, above all, of the toll that it all might take on their two young daughters.
But these days, Barack Obama has no bigger cheerleader than his wife, and Ms. Obama has developed into an able, dynamic campaigner. She'll be speaking at the Democratic National Convention Monday night.
When her husband's run for the nation's top office looked to be a reality, "She said, 'Let's sit down and think it through analytically,'" remembers Valerie Jarrett, Obama's close friend and a senior adviser to the campaign. "'Let's talk about the downsides and risks, and let's have a plan for how we'll manage that.'"
That thorough approach to problems and her all-out commitment once the choice is made are hallmarks of a woman who excelled in her own careers long before gaining the media's attention as potential first lady.
But while she's been gaining attention for her accomplishments and poise, she's also drawn notoriety, serving as a lightning rod for those who see her as angry, abrasive, and didactic. Her now infamous comment last winter, calling Barack's candidacy the "first time in my adult life that I've been really proud of my country," has drawn particular criticism, even after her subsequent explanations.
---