Web's 'big bang' realigning media universe
At Democrats' confab in Denver, much musing on how 'new media' are changing politics – and everything else.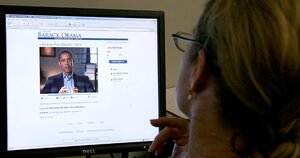 AFP/Newscom
Denver – The personal e-mail from Joe Biden arrived at my inbox Sunday at 12:10 p.m., precisely one minute after a missive about needed podcasts and blogging from one of my pesky editors.
"Alexandra," read the Biden e-mail. "I'd like to thank you for the warm welcome I've received as the newest member of this campaign. What you and Barack have accomplished over the past 19 months is incredible, and it's an honor to be part of it…."
Wow, who knew? Barack and I did that much? And now our new friend Joe is gonna help?
Of course, I'm not a part of the campaign, but rather a journalistic voyeur watching how it operates. One thing that stands out is the ease with which the Obama camp is making the political very personal and compelling via the Internet. It has created an online political community, one that operates at lightning velocity with a human touch – one that's amplified by millions of supporters who simply hit the "Forward" button to pass the message on to friends and family.
And like everything else connected with the Internet – the press, politics, and yes, even our understanding of the world we thought we knew – the ramifications of that campaign are in flux and the outcome uncertain.
The speed, egalitarianism, and global reach of the Internet have always been both unsettling and exciting. But a Sunday morning gathering of mostly "old media" types at the Democratic National Convention in Denver gave a sweeping perspective of just how revolutionary the Information Age is.
---