Bill Clinton looms large at Obama's party
His prime-time speech Wednesday is an opportunity to heal a Democratic rift.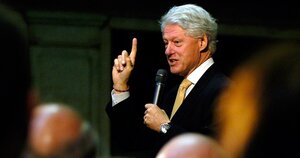 Don Heupel/AP/File
Denver – Bill Clinton has never done anything on a small scale. He served six terms as governor of Arkansas before his two terms as president and now travels the world as head of a foundation that dispenses millions of dollars to fight disease and climate change. On the side, he earns more for one speech than most Americans make in a year.
Now, in a week that is supposed to be all about Barack Obama and his battle for the presidency against John McCain, former President Clinton has carved out an outsize role for himself here in Denver. Even if his wife, Hillary Rodham Clinton, has publicly said all the right things after losing a tough Democratic nomination fight with Senator Obama, Mr. Clinton has not.
And up until the moment he delivers a prime-time convention speech Wednesday – his sixth such address in as many presidential cycles – no one can be quite sure if Clinton's appearance will help or hurt Obama. The greatest danger may well be that Clinton spends the bulk of the time talking about himself, doing little to convince voters that he and his wife are ready to cede the spotlight to Obama.
---