A history-making nomination for Obama, and America
Clinton, the first woman to credibly vie for a major-party presidential nomination, made the motion that gave the nod to the first black nominee.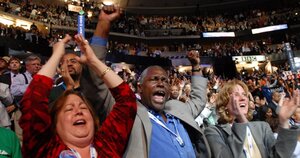 Mary Knox Merrill/Staff
Denver – Delegates to the Democratic National Convention here made history Wednesday, formally nominating Barack Obama as the first African-American presidential candidate of a major American political party.
On the floor of the Pepsi Center, several black delegates wept after their states cast votes, with memories of segregation and struggle still fresh.
"I'm just thinking of my grandmother and wishing she was here – she'd been through the civil rights movement," LaKeisha Chestnut, an Alabama delegate, said through sobs after her state cast 48 of its 53 votes for the Illinois senator during a roll call of states Wednesday afternoon. "I'm so honored to be here, … to cast my vote for Barack Obama."
The state-by-state vote Wednesday held little suspense. Obama had won enough delegates by June to claim the nomination. But Wednesday's vote made official what is likely to be remembered as a signal moment in the history of a country that once condoned slavery and denied blacks the vote.
"He represents the ultimate dreams and aspirations of millions and millions of African-Americans," says Christopher Parker, an expert on race and politics at the University of Washington. "For anyone over 30" – old enough to remember the civil rights movement – "it's a massive symbolic victory."
---