Clinton speech moves Democrats toward unity, but hasn't clinched it
Her words to the Democratic faithful Tuesday night are a first step, not an end point, toward bringing diehard Clinton fans around to Obama.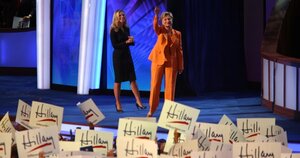 Melanie Stetson Freeman/Staff
Denver – Sen. Hillary Rodham Clinton said virtually all the right things in her speech at the Democratic National Convention Tuesday.
She called Sen. Barack Obama "my candidate." She urged Democrats to unite as "a single party with a single purpose." And in a plea to her fiercest supporters, some of whom say they will vote for Republican John McCain over Senator Obama in November, she asked whether they were "in this campaign just for me" or for the good of Americans.
Again and again, the crowd inside the Pepsi Center here roared. Delegates hoisted official signs with "Hillary" on one side and "Unity" on the other. But were her words enough to heal a divided party?
Senator Clinton highlighted the goals she shared with the presumed Democratic nominee – to end the Iraq war, to fight inequality, to make healthcare universal. But she did not talk about Obama's personal qualities. She grew animated when criticizing Senator McCain, the presumed Republican nominee. But at other times, she seemed measured and subdued, a degree or two short of the fire she often displayed on the campaign trail.
---
Follow Stories Like This
Get the Monitor stories you care about delivered to your inbox.