Democrats' new drive in red states
Colorado, Virginia, New Mexico, and other states are now in play.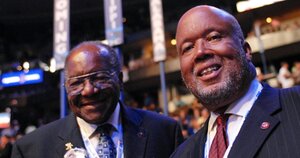 Mary Knox Merrill/Staff
Denver – Four years ago, the Democratic Party in Mississippi was struggling to keep its doors open. Today, party leaders here at the Democratic National Convention in Denver are seriously considering turning the onetime red state blue come November.
With an infusion of enthusiasm and cash from national party during the past four years – the state now has four full-time staff paid by the DNC – Mississippi Democrats won a special election in May 2008, taking a congressional seat that had been reliably Republican for more than a generation. And they believe that's just for starters.
"We also stand a very good chance this time around to elect a US Senator," says Rep. Bennie Thompson (D) of Mississippi. "And we may even carry this state for Obama."
That's a long shot, but four years ago, the very suggestion would have been dismissed as ridiculous. The Democrats had largely written off the South and much of the West. But today, many of those formerly red states such as Colorado, New Mexico, Virginia, and North Dakota are competitive. And Democrats are working overtime to turn them blue.
The 50-state strategy
---