McCain hits Obama on national security in new ad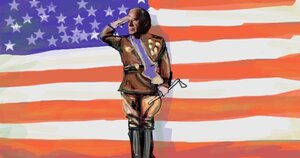 Jake Turcotte
Foreign policy - the theme tonight. Foreign policy - the new McCain ad. See how it works?
As if the McCain campaign were clairvoyant, they rolled out a new campaign commercial coinciding with the theme of Day 3 at the Democratic Convention.
What do you just bet the Obama folks will be every bit as psychic next week?
They are calling today "Securing America's Future." And the DNC says Barack has got the goods to deliver. Specifically, so they say, "he offers a new, tough foreign policy that is neither Republican nor Democratic, but is a strong, smart American foreign policy to make our country more secure and advance our interests in the world."
If you were betting that John McCain has a different position, as Ed McMahon would say, "You are correct, sir."
The McCain camp says Barack Obama doesn't believe Iran poses a serious threat, "even though they support terrorism, are developing nuclear capabilities and repeatedly threaten to eliminate Israel" reads another one of these good morning emails the McCain people keep sending.
---