Protesters at Democratic convention fly the 'cage'
They've come to Denver for countless causes, but they almost uniformly reject the designated protest zone.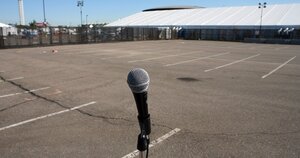 Melanie Stetson Freeman/Staff
Denver – They're outside city offices, in parks, on the capitol steps and near the US Mint. But the one place most protesters here are avoiding is the official demonstration zone, a fenced-in parking lot near the Democratic National Convention that activists here mockingly call "the freedom cage."
The 47,000-square-foot zone is hemmed by rows of metal barricades and concrete barriers and watched over by uniformed Secret Service agents. Views of the Pepsi Center convention site, some 700 feet away, are blocked by a giant tent housing news media.
On Monday afternoon, a couple hours after the convention kicked off, the zone was an asphalt desert. A microphone stood on a lonely stand. A Canadian documentary crew waited for protesters who never came. An official sign-up sheet near a low-rise platform was a study in sarcasm.
Requesting the 7 a.m. slot was one "G. Washington," who listed his cause as "You can't cage freedom." At 11:30 p.m., "B. Obama." Topic: "Hope for Cages."
"It's so far away, it's surrounded by cops, it's just ridiculous," said William Aanstoos, a college dropout from Asheville, N.C., with a yellow bandana around his neck who came to see the site after taking part in antiwar rallies elsewhere in the city. "I don't think anyone is taking it seriously."
---
Follow Stories Like This
Get the Monitor stories you care about delivered to your inbox.