Romney as GOP veep? Carville smiling.
The Democratic analyst and pollster Stan Greenberg said Wednesday they would welcome a Romney pick.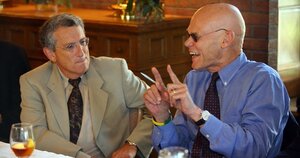 Melanie Stetson Freeman/Staff
Denver – Now that Joe Biden is firmly ensconced on the Democratic ticket alongside Barack Obama, politics-watchers are handicapping the Republican pick, expected as early as Friday. Maybe, given Senator Biden's long experience as a skilled debater, John McCain needs a known national figure who has proven himself as an energetic surrogate for the presumed Republican nominee – say, Mitt Romney?
"You think someone who's in finance, merging businesses and losing American jobs, is the best answer to Biden?" asked Stan Greenberg, a Democratic pollster, at a Monitor-sponsored luncheon Wednesday. "I hope we get Romney, I pray for Romney."
But Mr. Romney, the former governor of Massachusetts, is the son of George Romney, governor of Michigan in the 1960s – which gives the younger Romney an important tie to a key swing state. Mitt Romney, the argument also goes, could perhaps help Senator McCain in another battleground state, Nevada, which has a large Mormon population. The Romneys are devout Mormons.
Mr. Greenberg is again dismissive, factoring in how the younger Romney did in his own presidential run.
"Nationally, in our data and also nationally in the public data, the more voters saw Romney, the less they liked him," he says. "And I don't see any evidence that his father's position in Michigan has some enduring quality that shifts even a half a percent in Michigan. I want Romney."
---