Biden begins to shore up Obama's defensive line
His speech Wednesday night at the Democratic convention revealed his tasks: attack McCain's positions and appeal to blue-collar white voters.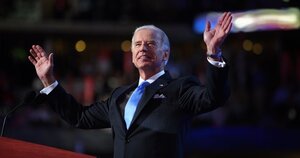 Melanie Stetson Freeman/Staff
Denver – In his acceptance speech Wednesday night, Sen. Joseph Biden showed the credentials that prompted his choice as No. 2 on the Democratic presidential ticket: a compelling personal story, rooted in family values; foreign policy gravitas; and a hard-edged political attack, delivered with grace.
With 36 years in the US Senate – all of them on the Foreign Relations Committee, which he currently chairs – Senator Biden brings a knowledge of foreign affairs and a network of international contacts unmatched on the Democratic side of the aisle.
In his choice of a running mate, Barack Obama "hit it out of the park," said former President Bill Clinton in his address to the convention before Biden's prime-time speech. "With Joe Biden's experience and wisdom, supporting Barack Obama's proven understanding, insight, and good instincts, America will have the national security leadership we need," he added.
Early polls signal that Biden's addition to the ticket has yet to produce a bounce, but it's early yet. (Most bounces don't come until after a party convention, and this one ends Thursday night.) But Democrats in Denver are counting on "Lunch Pail Joe" to reassure key elements of their party's base – and to take the fight to the Republicans.
---