Obama's next move: to the center
With his lead over McCain in the polls now gone, the Democratic nominee must woo independents.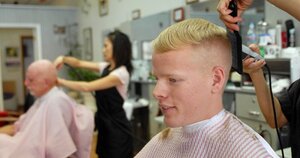 Mary Knox Merrill/Staff
Denver – No matter how big (or small) the postconvention bounce for Barack Obama, the newly minted Democratic presidential nominee has his work cut out for him.
His steady, summer-long lead of 4 to 6 points all but evaporated in the run-up to the Democratic convention, as Republican rival John McCain went on the attack. Now Senator Obama must not only solidify his Democratic base and keep wooing recalcitrant supporters of former rival Hillary Rodham Clinton, he must also reach into the nation's political center, where the election will be won. Any notion that the Democrats would coast to victory has vanished.
"The history of presidential elections in this country, for a very long time, has been that they're relatively close," said chief Obama strategist David Axelrod, speaking at a Monitor breakfast Thursday. "We had no illusions that this was going to be anything but close."
Still, as with two years ago, when voters swept the Republicans out of power in Congress, the playing field remains tilted toward the Democrats.
Some 35 percent of voters self-identify as independent, according to the Gallup poll. But in stark contrast to the 2004 presidential race, where party identification was roughly tied, Democrats now enjoy a significant lead over Republicans in party ID – 36 percent to 29 percent. And that represents a narrowing of the gap compared with previous weeks, Gallup notes.
---