Top Obama aides counting on new voters to win in November
Newly registered Democrats will offset any lag for Obama among traditional party voters, Plouffe and Axelrod said Thursday at a Monitor breakfast.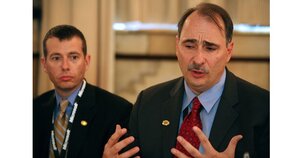 Melanie Stetson Freeman/Staff
Denver – Barack Obama's campaign Thursday brushed aside questions about its standing among traditional Democrats, saying it would win the presidential election by bringing new voters – particularly young people, blacks, Hispanics, and independents – to the polls this fall.
"There are millions more Democrats today than when this process started and that's going to be beneficial to us in November," David Axelrod, the campaign's chief strategist, said at a breakfast for Senator Obama's top aides and the media sponsored by The Christian Science Monitor.
Obama is banking on what his campaign manager David Plouffe called a "pretty significant and meaningful gap in intensity" over Sen. John McCain, a claim buttressed by polls showing higher levels of enthusiasm among Democrats than among Republicans this year.
The aides acknowledged the strength of President Bush's storied campaign organization in 2004, but asserted that Senator McCain, the presumptive GOP nominee, would have a hard time replicating it at a time of conservative disenchantment.
"I'm sure McCain has a list of all the Bush volunteers, but these things are not transferable," Mr. Plouffe said. He said that unlike the Republican Party, which had all but reached its voter turnout limit in the past two presidential elections, "we think we've got a lot more room to grow."
---