Soaring speech from Obama, plus some specifics
The Democratic nominee delivers strongest case yet against McCain campaign, prods Americans to change the direction of the country.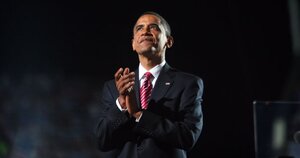 Melanie Stetson Freeman/Staff
Denver – In a stadium packed to the brim with more than 80,000 Americans waving red, white, and blue flags, Barack Obama formally accepted the Democratic Party's nomination for president, becoming the first African-American candidate for that office from a major party.
"With profound gratitude and great humility, I accept your nomination for the presidency of the United States," he said as the crowd roared, stamped their feet, and flashed their cameras throughout Denver's Invesco Field at Mile High Stadium.
Senator Obama then made an emphatic appeal to the working and middle classes, blaming their economic struggles on eight years of the "failed policies of George W. Bush." While he pledged not use the "same partisan playbook" to attack GOP rival John McCain, Obama made the strongest case yet against the Arizona senator, assailing him for holding onto the "old, discredited Republican philosophy" and "standing alone in his stubborn refusal to end a misguided war."
---
Follow Stories Like This
Get the Monitor stories you care about delivered to your inbox.