Twin Cities: homespun and cosmopolitan
The GOP National Convention opens in a place reflecting the nation's enduring agrarian myth ... with skyscrapers.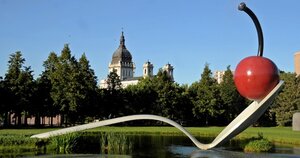 Ann Hermes/The Christian Science Monitor
Minneapolis and St. Paul, Minn. – A runaway bull charged through crowds at the Minnesota State Fair last year, butted into a red fire hydrant at full-gallop and dropped dead on the spot.
Sympathy was overwhelmingly for the bull, not the terrified bystanders. After all, who would plant a blazing-red fire hydrant anywhere near a bull barn?
The fact that the incident took place in the heart of the nation's 15th largest metro area – home to an acclaimed opera company, 57 museums, hip-hop clubs, four major league teams, and three Tony-winning theaters – says something about the Twin Cities of Minnesota, which play host to the Republican National Convention starting Monday.
The spirit of modern-day Minneapolis and St. Paul springs from the settling of America's heartland. Even as skyscrapers rise from the vast Midwestern prairie where it abuts the banks of the Mississippi, people honored the values of pioneers and entrepreneurs who planted their ambitions on that prairie.
Most of us know the enduring myth of America's great agrarian age by heart: Huck Finn fishes in yonder lake, berry pies cool on a window ledge.
Towering over the Mississippi's banks in Minneapolis, the Guthrie Theater is as far from that image as anyone could imagine. Yet director Joe Dowling said the musical, Little House on the Prairie, was a perfect fit for his bold new theater.
---